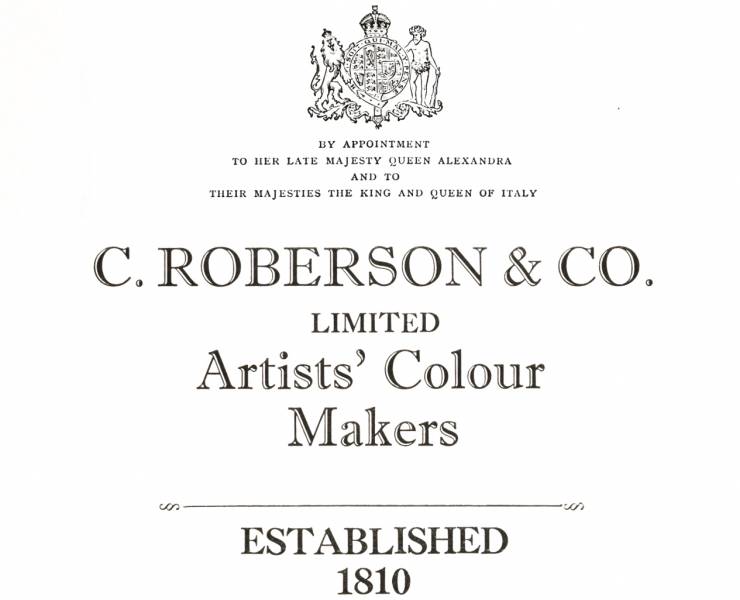 Trade Discounts
Trade discounts apply to most products included in the Roberson trade price list.
Carriage UK Customers
There is a minimum order value of £50 net. Carriage is paid for standard consignments for the UK only for orders of £150 plus at net level excluding Vat. A charge of £20 is made for all consignments below £150 net. Carriage will be charged at cost for unusual or bulky consignments. These charges will always be agreed before delivery.
Carriage Overseas Customers
There is a minimum order value of £60 net. Carriage will generally be charged at cost for overseas consignments. These charges will always be agreed before delivery. An additional small order charge of £15 is made for all consignments below £250 net. Customers should note that the purchaser will pay for bank charges and bank documentation should be completed accordingly.
Customer Service
Roberson as a manufacturer and distributor to the trade sets the highest standards of customer service and support. It is our desire to increase this level of support continuously. Please let us know how we can improve our service to help you in your business.
New Accounts
Please send bank details in order that enquiries can be made. Two trade references are normally needed. Opening a credit account can take a little while and pro forma arrangements are recommended on the first order.
Acceptance and Price Variations
The costs of raw material and finished goods change with exchange rates, volatility in natural substance prices and chemicals costs. Prices are therefore subject to increase without notice and are priced at the level ruling at the time of dispatch. Quotations are however valid for 30 days.
Delivery
Schedules of delivery are estimates only. We will use our best efforts to deliver at times stated but shall not be liable for any delays due to causes beyond our control. Goods shall be deemed to be delivered when handed to carriers.
If you are having problems with your delivery then please contact us by phone 020 7272 0567 or email info@robco.co.uk for a tracking number.
All our UK deliveries are made through Parcelforce and deliveries can be tracked through them: www.parcelforce.net
We use UPS through a local agent for European deliveries and they also offer a tracking service: www.csmlogistics.co.uk
Payment
Payment is due 30 days from the invoice date. We reserve the right to charge interest on overdue accounts at 2% per annum over the Barclays Bank base lending rate. Payment will be made in £ Sterling net of bank charges.
We do not offer retail style facilities to receive credit card payments. In exceptional circumstances arrangements can be made to apply card payments for payment but a fee of 3% for administration costs will be applied.
Title to Goods
Risk in the goods passes to the customer on delivery but legal title remains with us so long as any sum due to us on any account or grounds is unpaid. The customer agrees that, in seeking to exercise our rights under this clause, we may at any reasonable time enter the client's premises and remove our goods. In the event of the buyer having sold the goods we reserve title to the proceeds of the sale.
Copyright
Copyright and other intellectual property rights deriving from our work remain with us unless otherwise agreed by us in writing.
Cancellation and Return of Goods
We shall be entitled to suspend or cancel deliveries under any contract between us and the customer if any payment due from the customer is not paid on its due date. Orders once placed by customers cannot be cancelled. Products may not be returned for credit unless authorised in writing. Unsolicited returns are charged handling at 25% if in mint, saleable condition.
Shortage and Damage
Shortage and damage claims will be accepted if they are advised within 3 days of delivery and in writing within 7 days of the invoice date. Loss of goods should be notified within 7 days of the invoice date. Incorrectly supplied or faulty goods will be credited in full including any reasonable costs for return carriage.
Multiple Order Quantities
Shelf pack sizes are given in the price list. Multiple order quantities are strictly applied and orders less than the multiple will be increased to the minimum or adjusted to the nearest shelf pack quantity as applicable.
Suitability for Use
While Roberson takes good care to maintain high standards of quality in their products, it is the user's responsibility to ensure that the goods purchased are suitable for their particular requirements. Many of our products are natural substances whose behaviour can vary in different environments. Their structure can also vary according to the process used in their assembly and application. We use worldwide suppliers of our products and raw materials and from time to time the formulations may change. It is advised that a test area is used to apply the product before commitment to a large application or use of the product. Roberson strive to maintain consistency and continuity in these matters but in no circumstances will entertain claims for the value of work alleged to have been adversely affected by use of any of our products which prove to be unsatisfactory to the user. Our liability is therefore confined to the value of the goods alone.
Force Majeure
We will be released from all liability to the customer if performance of the contract is delayed or prevented by any cause whatsoever beyond our control.
Disputes
Any dispute arising between the customer and us under these terms and conditions shall be determined by English law.